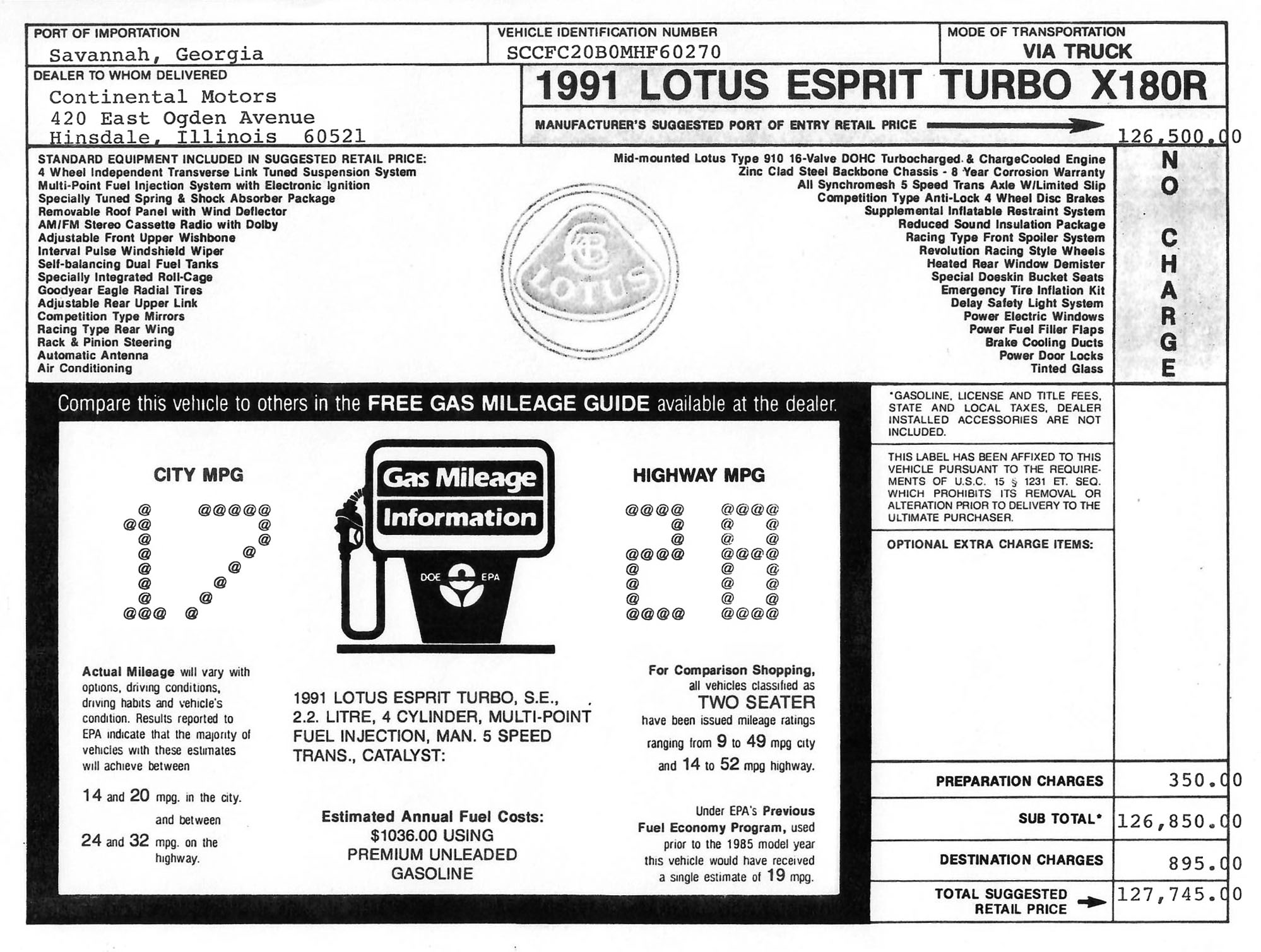 Casually looking at an X180R on the street or the Monroney window sticker it would be easy to gloss over all the special racing equipment fitted to the road-going X180R. While "racing type" and "competition type" features prominently in the options listed, hundreds of special parts and build deviations were fitted during assembly compared to standard Esprit models.
The following summarizes the technical specification pages from the X180R owner's manual supplement which was provided with each of the twenty Esprit X180R homologation cars. Interestingly, the "foreword" in each X180R supplement provided with the twenty X180Rs was individually signed by Lotus Chief Engineer Oliver Winterbottom. For some additional detail, some items were updated with information gleened from Winterbottom's internal draft specification sheet dated October 9, 1990, minus a few options that never made it on the homologation car such as racing harnesses and an oil pan baffle. While not everything detail is listed below, this highlights what makes the X180R truly special compared to other Esprit models.
X180R Homologation Car Equipment
Suspension
Modified galvanized steel chassis to support fully adjustable competition suspension and high-rate suspension springs
Front Suspension
Revised lower link geometry to give zero dive or squat
Strengthened top links with shortened inboard pivots to give increased caster, camber being adjustable via rotating lock washers.
Spring tower strengthened with spring frequency raised 40%
Stabiliser (anti roll) bar tuned for neutral handling, running in solid bushes transmitting roll control via spherical rubber bushes in the modified track control arm.
Monroe shock absorbers with competition valving (revised settings), new rubber mounts and steel retainers.
Steering rack, standard component on higher mounts connects to revised steering arms to control toe characteristics
Ride height reduced
Rear Suspension
Top links modified to permit camber adjustment
Radius arm mounting bush stiffened 33%
Spring frequency increased 12.5%
Dampers with revised settings and new rubber and steel retainers
Hub carriers remachined to accept revised brake specification
Rear ride height lowered
Chassis Frame
Additional mount on backbone for the roll cage
Rear spring tower strengthened with roll cage mount
Steering rack mounts raised. (aka revised steering geometry)
Front spring tower strengthened
Front suspension top link pivot tube length reduced
Brakes
Braking system totally revised and actuated through a Delco Moraine anti-lock system.
Front Brakes
13 inch diameter curved vane ventilated front discs mounted on aluminum bells
AP Racing 4-piston aluminum calipers with 36/38.1 mm diameter pistons
Ferodo 3432 (asbestos free) high performance brake pads
brake cooling ducts
Rear Brakes
11 inch diameter curved vane ventilated rear outboard discs mounted on aluminum bells.
AP Racing 4-piston aluminum calipers with 31.75 mm diameter pistons.
Ferodo 3432 (asbestos free) high performance brake pads.
Brembo parking brake caliper, independently mounted is cable actuated by a modified handbrake lever. System is self adjusting.
Parking brake pads asbestos free.
Vehicle System
SRF high performance brake fluid.
Revised pedal with non slip finish.
Wheels & Tires
Front
16" x 8.5 Revolution 3-piece alloy racing wheels
Goodyear Eagle 225/45ZR16 tires with unique internal construction (per X180R supplement)
Rear
16" x 9.5 Revolution 3-piece alloy wheel
Goodyear Eagle 255/50ZR16 tires with standard construction
Spare
No spare tire fitted
Two "Fix It Fast" tire inflator cans (instead of spare tire) mounted with special brackets
Engine & Transmission
Engine
Blueprinted cylinder head
Matched ports to manifolds
Induction system silencer deleted
ACU condenser utilized as additional chargecooler (heater only vehicles)
Non-intercooled specification exhaust silencer with left side outlet
Transmission
Renault 5-speed with strengthened competition-type casing
Limited-slip differential
Gear clusters have increased hardening specification
Special double-pinned gear selector forks
Provision for oil pressure feed and cooler (optional extra)
Speedometer drive deleted, system electronic
Increased heatshielding on selector cable
Body
Standard SE body shell available with composite opening roof panel only.
Monaco White paint
Front air dam redesigned with rubber lower lip balancing lift front to rear
Air deflectors on leading edge of front wheel arches
Front fog lamps deleted to permit additional brake cooling
Rear competition-type wing mounted higher and more rearward
Turbo type rear lower
Exterior mirrors in satin black finish (aka "competition type")
Reduced ride height
World Challenge decals
Interior
Steel tubular Safety Devices roll cage with braced bulkhead structure and door sill bars
Black, reflection free "Doeskin" trim fabric
Reclining seats with competition-type side supports
Perforated hide on wearing surfaces (graphite leather)
Center tunnel top with console and map pocket deleted
Passenger door grab handle
Simplified door trim with perforated leather inserts, ashtrays deleted
Anthracite grey lightweight carpet with all sound deadening deleted
Black low-glare instrument panel with 100mm electronic speedometer and tachometer
225 mph speedometer
Tachometer rotated for improved readability
Digital clock deleted
Fascia mounted audio speakers deleted
Competition-developed optimized foot pedal locations
Revised non-slip pedals with aluminum heel rest and clutch foot rest
Accessories
X180R owner's manual supplement
parts vendor identification kit
standard Esprit plastic box tool kit and jack