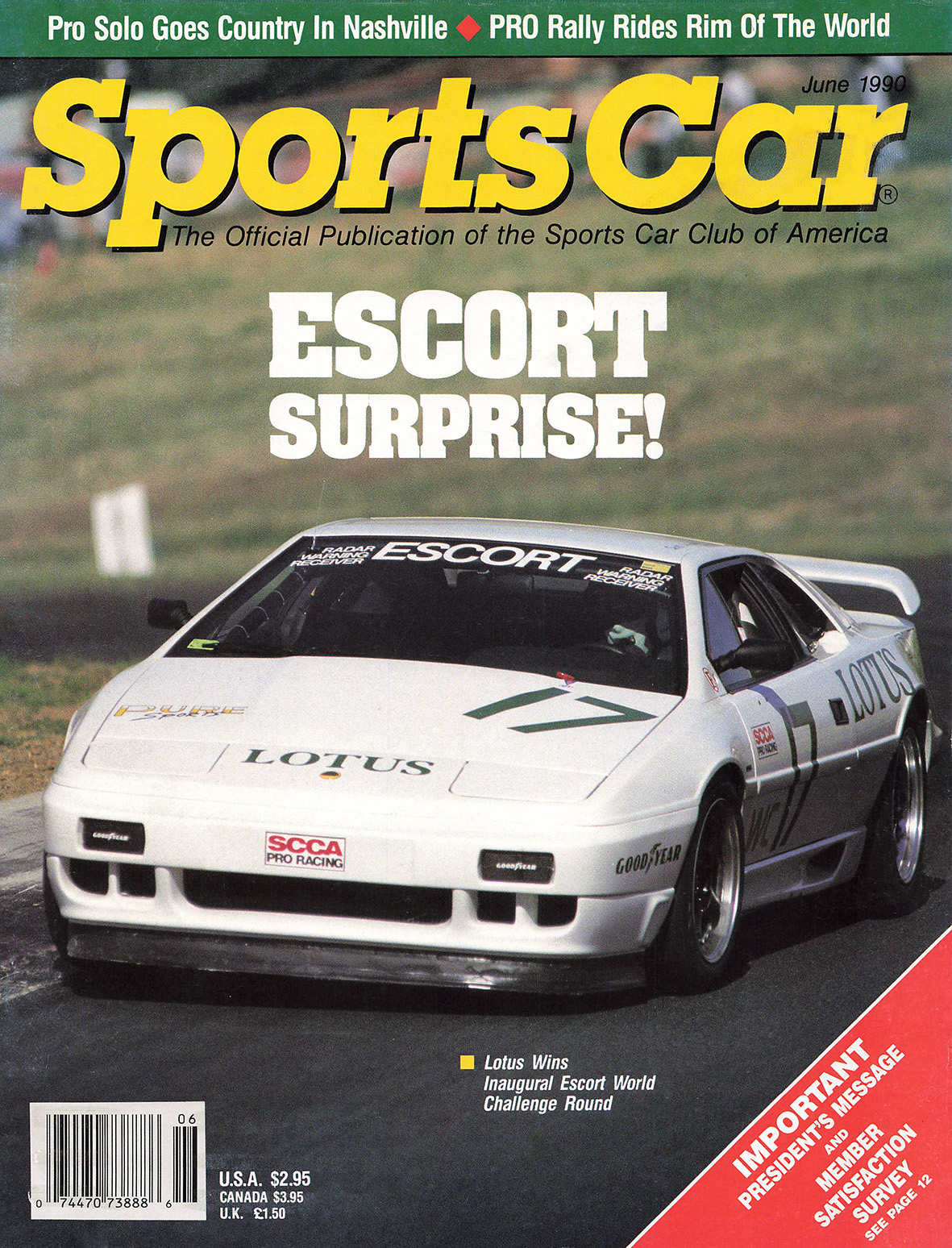 1990 Season Summary
Drivers: Doc Bundy, Scott Lagasse, John Miles (Lotus F1 driver; was third driver for Mosport 24 hour race)
2 race cars (Lotus Esprit SE Type 105)
4 wins (50% of the races)
6 pole positions (75% of the races)
2 finishes in 1-2 formation
7 podiums
6 events where fastest lap was set
2,900 race miles with no mechanical problems
7 out of 8 races led the field
Lotus placed second in the manufacturers champsionship (Corvette 2nd, Porsche 3rd, Mazda 4th, Nissan 5th)
top driver, Doc Bundy, was second in the final drivers points
Lotus Cars USA presented with the Jim Cook Memorial Award for "consistent display of good character and sportsmanship" and a "significant contribution to the overall success of the series"
1990 SCCA Escort World Challenge
This was the inaugarel year for SCCA's World Challenge professional racing series for production based sports cars. It was thought that the Corvette would be unbeatable, as the Corvette Challenge series ended and numerous well-prepared Corvette temas moved over to World Challenge.
Type 105 race cars were entered as "Lotus Esprit Turbo"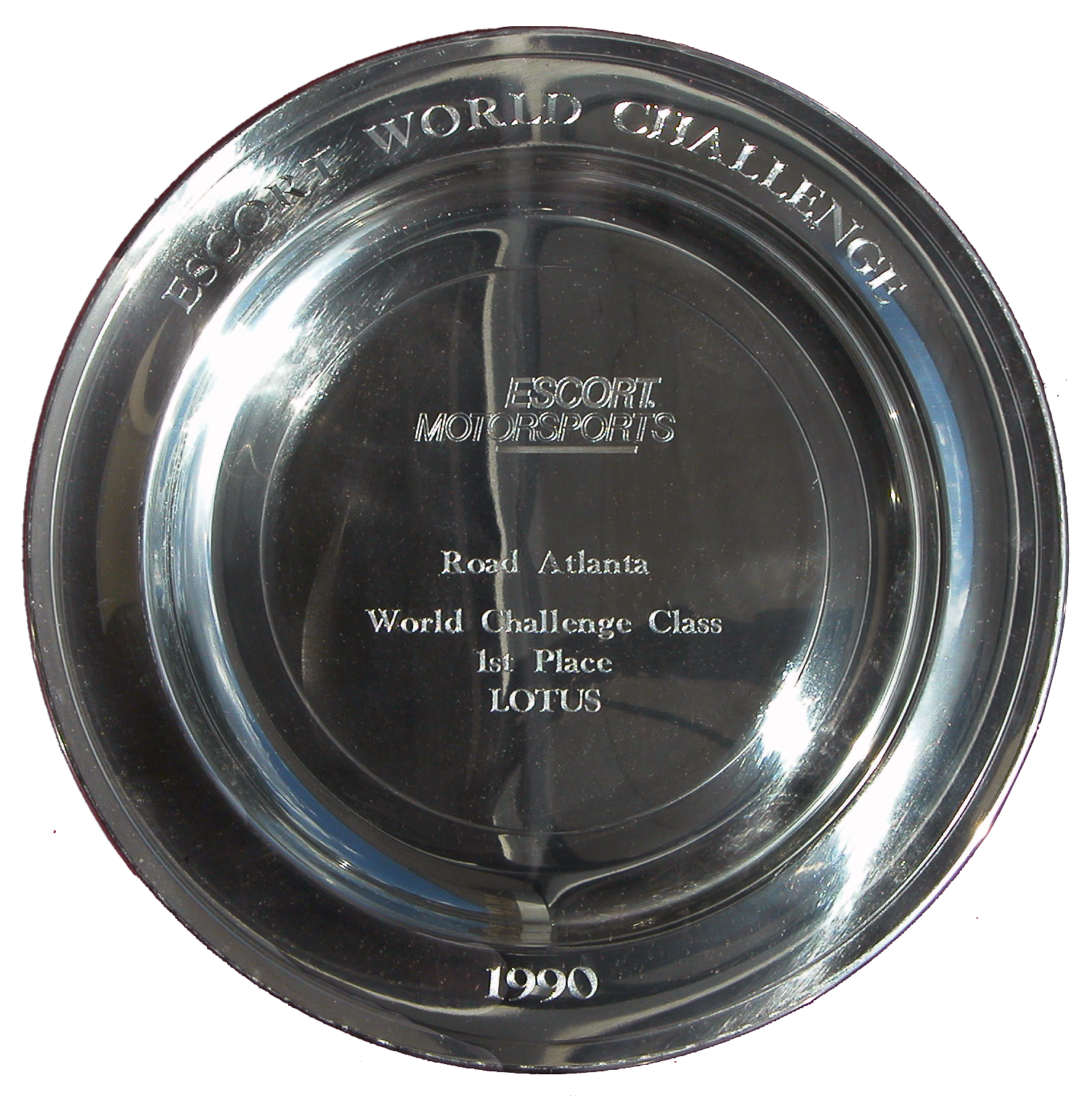 This piqued Lotus's interest and they pulled two Esprits off the assembly line and developed the Esprit into the Type 105 "X180R", taking the internal Esprit model identifier X180 and appending "R" for racing.
Campaigning under the banner of the Texas-based Pure Sports team with Doc Bundy and Scott Lagasse.
Doc Bundy would take 2nd in the championship, after a crash in Dallas left him without the points to clinch the championship. Scott Lagasse taking 5th, the rest of the top nine drivers in the championship were all Corvette racers.
Lotus's success prompted them to develop the twenty X180R cars with the bare minimum required to allow street registration, with their success highlighted by "World Challenge" decals on the front fenders.
At the end of the season, both X180R Type 105 race cars were sent back to Lotus Cars Ltd for upgrades to Type 106 (IMSA spec).
| Date | Race | Circuit | Duration | No. | VIN | Drivers | Entrant | Weight | Started | Results | Notes |
| --- | --- | --- | --- | --- | --- | --- | --- | --- | --- | --- | --- |
| May 5, 1990 | Sears Point | Road Course | 3 hours | 17 | SCCFC20851HF65798 | Doc Bundy / Scott Lagasse | Pure Sports | 2,500 | 5th | 1st | led 83 of the 92 laps |
| Jun 2, 1990 | Dallas | Street Circuit | 1 hour | | SCCFC20851HF65798 | Doc Bundy | Pure Sports | 2,500 | 2nd | DNF | hit from behind |
| Jul 1, 1990 | Laguna Seca | Road Course | 3 hours | | | Doc Bundy | Pure Sports | 2,600 | 1st | 1st | min weight increased; tested new Lotus ABS system |
| Jul 1, 1990 | Laguna Seca | Road Course | 3 hours | | | Scott Lagasse | Pure Sports | 2,600 | | DNF | crash in Corkscrew (lost rear breaks); kept old braking system |
| Jul 14, 1990 | Des Moines | Street Circuit | 1 hour | | | | Pure Sports | 2,600 | 1st | 3rd | |
| Jul 14, 1990 | Des Moines | Street Circuit | 1 hour | | | | Pure Sports | 2,600 | | | |
| Jul 28, 1990 | Road Atlanta | Road Course | 3 hours | | | Doc Bundy | Pure Sports | 2,600 | 1st | 1st | Lotus ABS system fitted to both cars |
| Jul 28, 1990 | Road Atlanta | Road Course | 3 hours | | | Scott Lagasse | Pure Sports | 2,600 | | 2nd | Lotus ABS system fitted to both cars |
| Aug 11-12, 1990 | Mosport Enduro | Road Course | 24 hours | | | Doc Bundy / Scott Lagasse / John Miles | Pure Sports | 2,650 | 1st | 6th | min weight increased |
| Aug 25, 1990 | Denver | Street Circuit | 1 hour | | | Scott Lagasse | Pure Sports | 2,650 | 1st | 1st | |
| Aug 25, 1990 | Denver | Street Circuit | 1 hour | | | Doc Bundy | Pure Sports | 2,650 | | 2nd | |
| Nov 3, 1990 | St. Petersburg | Street Circuit | 1 hour | | | | Pure Sports | | 1st | 6th | |
| Nov 3, 1990 | St. Petersburg | Street Circuit | 1 hour | | | | Pure Sports | | | | |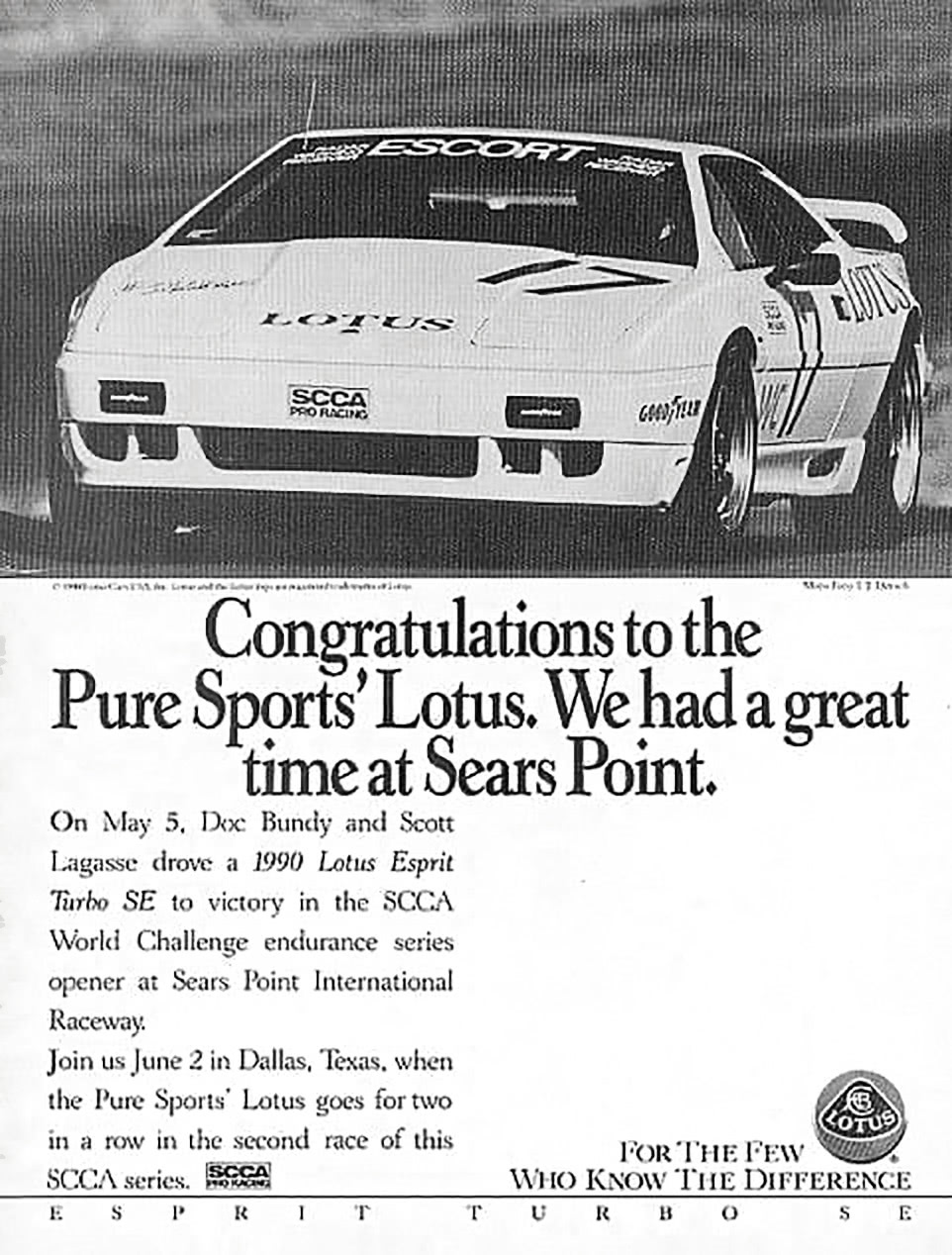 Personalities Involved in 1990 Effort
Alan Nobbs: Lotus powertrain engineer for racing team (hired from Corvette ZR-1 project)

John Miles: Lotus chassis development and third driver for 24 hour endurance race (former F1 driver for Lotus)

Colin Marriott: Lotus engineer on chassis, engine, etc

Richard Clarke: Lotus Cars USA field engineer (previously worked for Lotus Engineering in active F1 suspensions)

Rick Adley: Pure Sports team manager

Jim Bell: Pure Sports crew chief

Ron Foster: President of Lotus Cars USA